Düsseldorfer Theaterzettel (DFG) (Düsseldorf Playbills)
About the material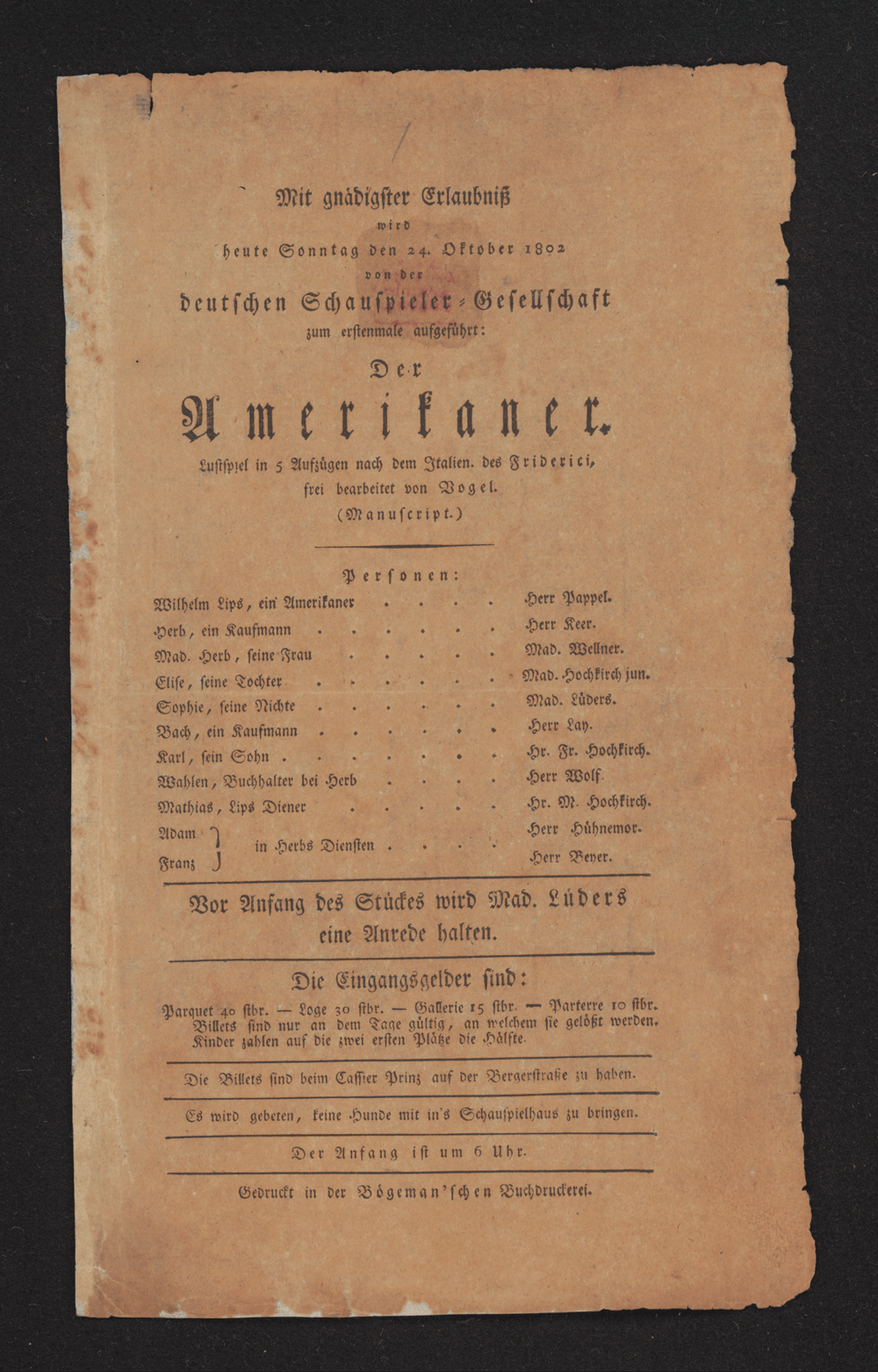 Der Amerikaner, 1802
According to the latest projections, the stock of playbills in the ULB Düsseldorf amounts to more than 60,000 copies. The oldest playbills date from 1802; by 1918, the holdings include over 13,000 copies. This means that the ULB has the most complete collection of Düsseldorf playbills from the 19th century. The remaining playbills date from the years between 1919 and 1945, and occasionally up to 1957. The collection was transferred to today's ULB when the HHU took over the Düsseldorf State and City Library in 1970.
On historical playbills, the theaters announce their respective performance(s) on a daily basis, usually stating the time and place of the performance, author and director of the play, characters and names of the corresponding actors and actresses, as well as admission prices and other information. As a text genre and cultural-historical source, playbills have only in recent years increasingly come into the focus of scholars and libraries.
About the project
With financial support from the German Research Foundation (DFG), over 13,000 playbills from Düsseldorf theaters dating from 1802 to 1918 were indexed and digitized during the project (Feb. 1, 2012-Aug. 31, 2013).
Special attention was paid to the depth of indexing: Thus, not only the directors, authors and composers of the respective plays are included in the catalog, but also, if possible, all other persons involved, especially the actors and actresses.
The digital copies are freely accessible to the public. Using the navigation on the left side, the playbills can be viewed sorted by year of publication, director involved, text author or composer. A search for playbills on which a specific actor or director is named is possible via the tag clouds. The context-sensitive facets on the right-hand side allow further narrowing of the search result.
Additional entry-level opportunities are listed below.
Funded by